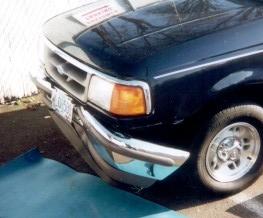 Living in Los Angeles means a lot of driving for most of us. Between commuting, visiting friends or family, and every day errands the likelihood of finding dents on your bumper would surprise you. The next time you have any damage to the bumper of your automobile, give us a call and we'll get you back on the road looking good in no time.
Chrome Bumper Repair Near Me
We can perform almost any bumper repair needs, including dent removal, bumper straitening, and more. No job is too small or too large for us to handle. We treat every client with the respect they deserve and we will keep you informed at every step and we will address all concerns we can and will discuss what we can do to get you back on the road before you know it.
Bumpers come in various materials, and they are all different to repair. Our technicians can handle most bumper repair jobs, so come to us before talking to full auto body shops or before you consider replacement. Various sizes of dents can be repaired in a short time frame by skilled technicians with the right tools and training. Every dent and ding is addressed in the fashion which will lead to the best results, minimizing structural problems or further damage. Unlike other dent removal companies, we address each dent individually, not the bumper as a whole. We will pay attention to the details other companies may miss.
Bumper straightening can be very important for aesthetic and function. A car with a bumper off balance can cause shifts in weight and the bumper is at risk to fall off or cause other damage to your vehicle. Don't stop at dent repair; make sure your bumper is straight as can be to ensure a job well done.
What separates us from other bumper repair companies? We offer mobile bumper repair! We can bring our tools and technicians for your convenience. We understand the importance of timely and cost effective chrome bumper repair, plastic bumper repair, and chrome bumper repair.
Before you replace your entire bumper at a high cost to you, contact SoCal Mobile Bumper Repair and we'll do what we can to repair your bumper for much lower costs. So many bumpers can be saved with proper dent removal techniques and equipment! From chrome bumper repair to steel bumper repair and even plastic bumper repair, we've got you covered and we bring the repairs to you.