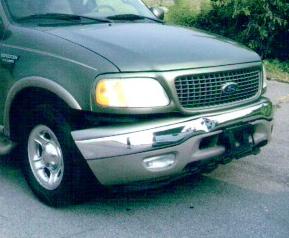 We service Orange County for all types of bumper repair, from chrome bumper repair to plastic bumper repair. We are the best at dent removal for all of your automobile bumper damage needs. We specialize in this area to ensure you get the best work done at the most affordable price. Our skilled technicians have gone through the proper training to provide you with the best dent repair around.
There are three main types of bumpers: chrome, plastic, and steel. Our repair technicians are trained to work with these types to provide the best dent removal and other bumper services. From minor collisions, shopping cart bumps, and other common causes of damage, we can remove dents from all types of bumpers for your convenience. Never underestimate the importance of a sturdy bumper—they're on your car for a reason and removing dents will make it look better and maintain the bumper integrity.
Bumper straightening doesn't sound like an important repair, but it is. A straight bumper looks better, of course, but a loose bumper can cause problems. A bumper that is loose or crooked can fall off completely or partially, causing damage to the vehicle or others if the car is in motion. In some cases, especially with steel bumpers, a crooked bumper can cause strange shifts in balance (though likely to be small) which could make driving uncomfortable or awkward. Simple straightening can prevent more costly damage down the road. Keep your car looking great with dent free and in place bumpers—rear and front.
Skip going to the junk yard to sell your bumper for scraps and call us to come check out your bumper before you shell out the funds for a replacement. Our mobile dent repair services bring the bumper repair to you, saving you time and money. Providing mobile services is how we stay ahead of the curve and keep our customers happy.
Every job is performed by a skilled technician with intense knowledge of dent repair and extensive training to provide the best job possible to get you back on the road in no time. We can work with all bumper types and various sizes and shapes of dents.
Call us the next time you find a dent (or dents) in your bumper, give us a call and we'll be out with our mobile repair truck and crew because bringing the repairs to you shows us just how much we love our job and making our customers happy.
Give us a call and we can discuss the repair job and we'll help you determine which dents can be repaired and which ones cannot. Often times, a dent removal service can prevent bumpers from being replaced, and that's how we like it at SoCal Mobile Bumper Repair.