Welcome to SoCal Mobile Bumper Repair  
Why would you replace a bumper, that may only need repairs?
We can repair chrome bumpers, metal and plastic bumpers, on trucks, vans, suvs, and cars
My mobile bumper repair service can be, faster & cheaper Than A Body Shop. I have 18 years experience in the industry. And personally repaired over 20,000 bumpers and still offer the best prices in the Long Beach area's.
I have been repairing bumpers since 1998. I have worked at auctions, budget and enterprise rent a car, CarMax and I am currently working at dealerships and wholesalers to numerous to list, and repairing bumpers in Southern California.
What We Do
I can re-form and reattach bumpers
I can press out dents in chrome, metal and plastic bumpers.
I can straighten reinforcement bars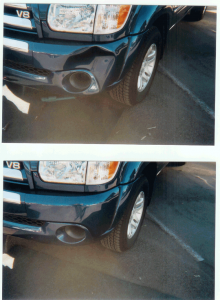 I can straighten bent and twisted bumpers.
I can Swap out bumpers
I can save you time and money on your bumper repair
I can give you a money saving price quote on the telephone.
I can repair your bumper in hours not days, saving you the cost of a car rental
I can come to your home or business, to repair your bumper
I can be available Monday thru Saturday 8am – 9 pm   Sunday – closed
If I cant help you there is a good chance I can get you in touch with someone who can.
I DO NOT PAINT & RE-CHROME BUMPERS
I DO NOT SELL BUMPERS & BUMPER ACCESSORIES
Here is what you need to do, when you need my services. Either text me  310-339-6883  or e-mail me – bumperrepairla@gmail.com 3 pictures of the damaged area of the bumper "top, side and front pictures" The city you want the work done?  Is it home or work?
I will either text you or e-mail you back a money saving estimate, by the next day.
Call me anytime with any questions about your bumper. 310-339-6883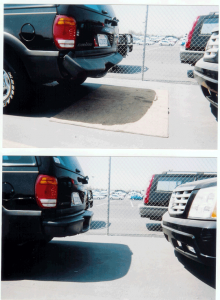 We are always looking for another dealership or wholesaler.
We will come to your location, inspect damaged bumpers and give you a money saving price, for repairing each one. The repairs are done quickly and on site. So your trucks, vans, suvs and cars are ready to sell in less time.
Selling or Trading in?
A clean and shiny vehicle with no bumper damage, certainly make an impression to any potental buyer. A potential buyer might discount or think twice about buying your vehicle due to a dented or twisted bumper.
We cover all of Los Angeles and Orange County with fast response times to Huntington Beach Ca, Montabello Ca, Irvine Ca, Costa Mesa Ca, Torrance Ca, Norwalk Ca, Cerritos Ca, Lakewood Ca, Carson Ca, Bellflower Ca, Downey Ca, Long Beach and all city's near by Ca, make sure to text photos of your bumper that you want repaired!
Repairing your bumper is good for the environment. Every bumper repaired is one less sent to the scrap heap.
If I cant help you there is a good chance I can get you in touch with someone who can.
Tap here to call us today – 310-339-6883